Students choose to receive a higher education in Texas due to its favorable weather conditions, picturesque views, as well as reasonable housing options and safety policy in the state.
The list of the top Texas universities has been made according to the following criteria: academic achievement, student satisfaction by the learning process, the cost of college education, and the possibility of meaningful employment.
Rice University, ranked as the best Texas college, is famous for the courses of applied disciplines with a focus on the undergraduate education, relying on a residential college pattern.
Texas A&M University, the first public college in Texas, offers various possibilities for degree programs and a favorable return on investment.
University of Texas at Austin, one of the biggest and best research colleges in the USA, stands out due to its student financial assistance program.
Texas Tech University, a leading public research college with a large adjacent campus, includes a wide variety of graduate programs and provides low-income students with financial aid.
The University of Texas at Dallas, an innovative higher education institution, is on the way to achieving the highest ranks of research universities in the country.
Trinity University, a former Church College, is well known for its supportive school environment and high academic expectations.
Baylor University, Southern Methodist University, Abilene Christian University, and LeTourneau University are at the bottom of the list of top Texas colleges.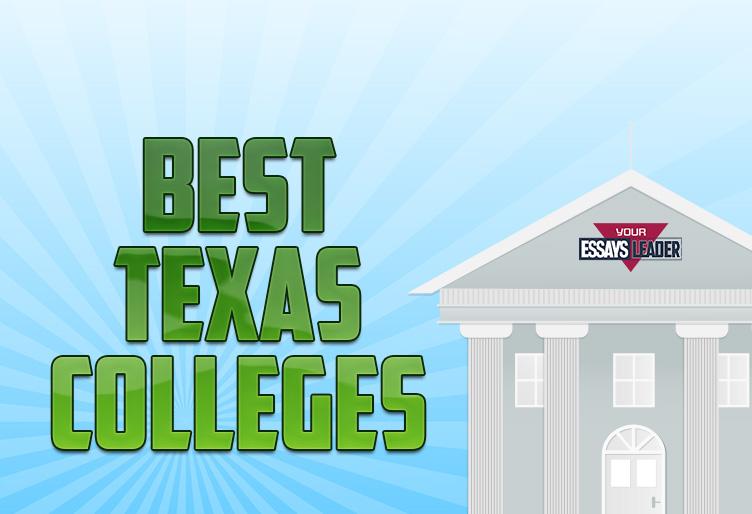 Each university from the selected group has undergone a thorough assessment procedure, which involved critical evaluation of statistical figures in the four categories:
Economic Value

The cost of education is the foremost determinant of a college choice. As it is important for students to find suitable studying opportunities and invest wisely in education, they pick out Texas colleges with lower costs.
Besides, a career return on a college tuition is essential for prospective graduates. Therefore, both starting and mid-career salary statistics have been evaluated.
Quality of Life

Firstly, the purchasing power of students in a particular district has been calculated.
Secondly, localities with high juvenile population and good entertainment facilities have been selected.
Moreover, students prefer to live in places inhabited by wealthy and well-educated people, which means social and economic benefits. Thus, the cities with a higher level of household incomes and a bigger number of certified specialists have been chosen.
Academic Quality

A university's acceptance rate is considered a measurement of its academic quality. Texas schools with strict acceptance procedures ensure higher academic standards.
Since smaller classes allow students to get individual guidance and greater access to educational resources, universities with lower student-teacher ratios have been presented.
Student Satisfaction

The data about the enrolled students and retrieved second-year students, which characterizes the level of their satisfaction, has influenced the choice.
There is a directory of The Best Texas Colleges which can assist students in making a reasonable college choice.