If you receive a task to write an argumentative essay, the first thing to do is choose a topic you feel passionate about. Of course, this applies to the cases when there are no pre-written topics and when the instructor grants their students the freedom of choice. On the one hand, when choosing a topic of your own, you can focus on something that interests you or something you are competent in. On the other hand, try to make sure the topic can be examined from different perspectives. For example, consider Disney essay topics.
Disney essay topics are always a good choice because your readers will surely be familiar with it. Besides, there are people who love Disney films and those who are not fond of this corporation and the products it creates, and as you know, controversy is yet another characteristic of a successful topic for an argumentative essay. To start with, you can pick up a film and argue whether it is good or bad based on its advantages and disadvantages. Alternatively, you can focus on some common characteristics of all Disney films or characters.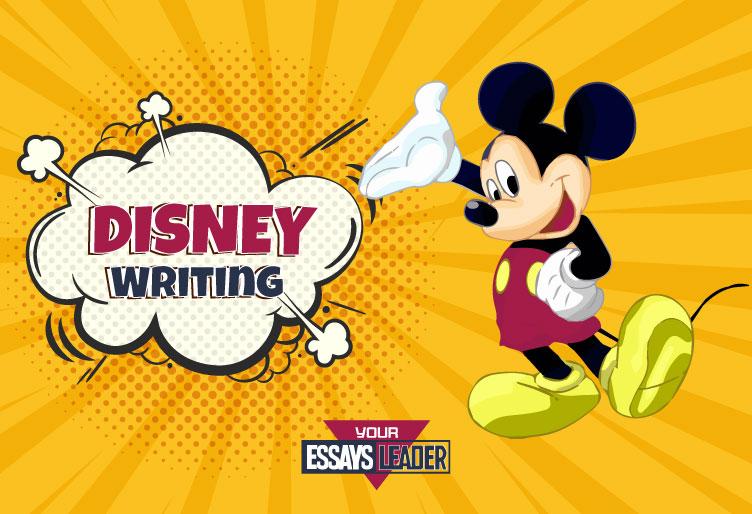 In addition to international acclaim, Disney Corporation, as well as its founder Walt Disney, have received a lot of criticism globally, which is another area of interest for students who have to submit a Disney essay.
So if you would like to come up with an exciting topic, look beyond the films and consider such issues as stereotypes, racism, etc. The following list of Disney essay topics was created to give you some inspiration:
Walt Disney held radical political views, so his company does not deserve such admiration.
Disney uses the best animation techniques to produce its cartoons.
Stereotypical representation of women is a characteristic feature of Disney movies.
Female characters in Disney cartoons look unrealistic, which sends a wrong message to young girls.
The saddest cartoon of all time is The Lion King.
Disney should put more efforts to educate its young audience.
Traditional drawing is what made Disney cartoons so well-loved by millions of viewers globally, and that is why the company should refrain from using computer animation.
Disney cartoons represent minority cultures incorrectly.
Some of Disney films do not deserve the Oscar awards they received.
If you need help with your Disney essay, contact EssaysLeader.com.
Disney Essay Example for Free: Acquisition of Pixar by Disney
In 2006, Disney completed its acquisition of the film animation company Pixar for US$ 7.4 billion. The high purchase price reflected Disney's eagerness to gain Pixar's animation capabilities, its talent, and it culture of creativity. Despite the numerous advantages that Disney is likely to acquire from this acquisition, there are risks that it is likely to encounter as it tries to achieve the goals of this acquisition.
One of the risks faced by Disney as it tries to achieve the goals of this acquisition is failure of creation of the expected synergies from the acquisition. For instance, the talents from each side may fail to combine successfully. Often, talents from two rivals or competing companies may have difficulties co-existing together. Sometimes talents from one company, especially from the acquired firm usually opt out of the acquisition by quitting their jobs. In addition, if the structural and cultural systems of the two firms are different, employees might find it difficult to maintain cohesiveness and teamwork. When this happens, the success and production of the newly established venture is ultimately disrupted.
Acquisition brings along a lot of change in the way business is conducted, how customers are handled, and how activities are scheduled and undertaken. Disney is likely to face a risk of resistance to change. It is generally known that people within businesses do not like change. This implies that Disney is not only likely to face employees' resistance to change, but it is also likely to face resistance to change from other business stakeholders such as customers and suppliers. Strong resistance to change from all stakeholders brought about by acquisition is very risky because Disney stands to loss its market power as its business stakeholders shift to other places where there are no changes taking place.
Another risk that Disney stands to face is the risk that the projected sales level, profit margins, and return on investment for the newly established business might not be generated within the given period. This risk is likely to affect the company's capital structure because it may be forced to utilize borrowed capital to finance its working capital and other capital needs. Extensive use of borrowed capital can result into financial problems such as bankruptcy or receivership. In addition, another financial risk that Disney is likely to encounter as it tries to achieve its acquisition goals is rise in unexpected or uncertain events and liabilities. These are likely to constrain the acquisition budget, causing the company to rely on borrowed capital to finance these events and meet the uncertain liabilities, which as earlier mentioned, can result into negative financial implications.
Disney's product line is relatively different from that of Pixar. Disney's main business operation is film production and distribution while Pixar's main business operation is film animation. Given the divergent nature of the two companies' business operations, Disney stands to face a risk that the new business operations may require marketing, financial, and production strategies that are different from those it employs in its operations. Consequently, Disney may have to develop new marketing and financial strategies, which integrate its business operations and those of the acquired company. This can be more risky if the acquired firm has substantial foreign operations.