If you have been assigned a leadership essay assignment, you know that it is no walk in the park. There is not a whole lot of flexibility to choose to write about what you want. You need to have deep knowledge on the topic of leadership. Unfortunately, most students lack the experience or writing skills to complete a leadership essay. But before you panic, you should understand that it is not a lost case. All it takes is some practice and a willingness to seek assistance from our professional academic writing experts.
You do not need to simply dive into the task. You should plan everything carefully, take good notes, and find out as much as you can about everything that a leadership essay entails before you get started. Here is a guide that will put you on the right path.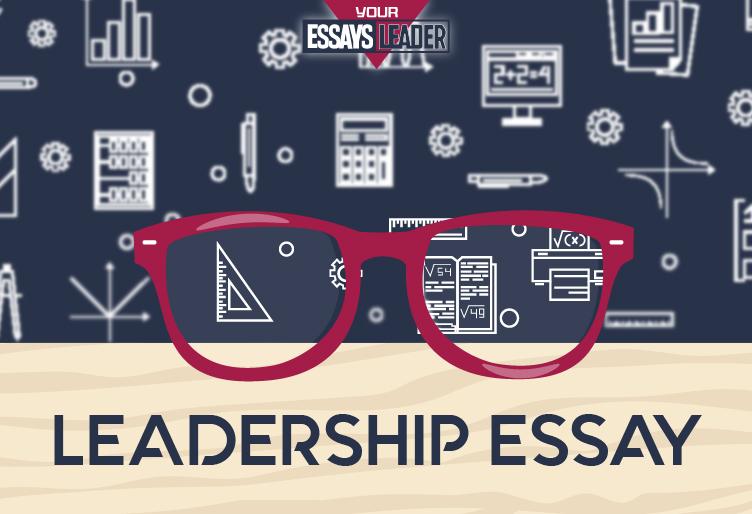 What is a Leadership Essay?
If you are taking a class related to leadership, you will certainly be asked to write a leadership essay. Before you start, it is important to understand what it involves. In a nutshell, this assignment explores any of the following:
A general idea about what leadership means, including examples
The story of a prominent leader and how they achieved success
A description of a particular individual's leadership skills
Examples from the student's own life that demonstrate their own leadership abilities
Regardless of the type of leadership essay you have been assigned, they all share a common purpose: to evaluate your ability to put your analytical thinking to good use and write a coherent paper that organizes your ideas related to leadership. While the information you gather will come from sources, you should be able to find ways to apply it based on your own personal perceptions. Although this task is not easy, it can actually be fun with the right attitude.
Elaborate an Outline
You should never rush into an academic essay without first putting together a good outline. When done correctly, it ensures that your thoughts and ideas are presented in a clear, logical manner. List your main ideas along with a brief sentence expounding upon them.
Hook the Reader
As is the case with all essays, the leadership essay starts with a good introduction. You want the audience to understand what they are about to read. However, you do not want to share too much in the opening paragraph; that is what the body of the paper is for. Instead, you should explain your aim of your paper, including why you chose the particular topic. It needs to be compelling so that the audience has a reason to continue reading the paper. For example, you might discuss how you found yourself in a situation in which you had to use your leadership skills. If it comes off as interesting and relatable, they will definitely be hooked!
Explain What Leadership Means to You
You do not want to simply provide a dictionary definition of "leadership." You will want to put your unique spin on it. Reflect on the following questions:
How does a good leader utilize their communication skills?
How important is it for a leader to be ambitious and be willing to take risks?
What types of hierarchy structures are best for fostering leadership?
The Body
This is the main part of your essay where you elaborate on your ideas in a detailed way. For each paragraph, you will begin with a topic statement and proceed to discuss it. Make sure that each statement is tied directly to the all-encompassing thesis statement. The paragraphs should flow logically from one point to the next.
The Conclusion
The conclusion paragraph is important in that it leaves the audience with a lasting impression. It should summarize what you have stated, reinforce your thesis statement, and discuss the broader implications, including how the reader can apply these lessons to their lives. Ultimately, the audience should be left satisfied in knowing that they have learned something new and useful. In most cases the only person who will actually read your paper is your instructor, and since they are the ones who are grading it, it provides even more motivation to finish your leadership essay on a high note!
Leadership Essay Examples
Looking for some leadership essay examples that you can use to generate ideas? Here are a few popular topics that students focus on when writing this assignment:
The Art of Speaking Effectively: How Words Influence Leadership
The dynamics of leadership and friendship
The charismatic styles of prominent leaders
The leadership styles of U.S. presidents
How accurate is leadership represented in cinema?
The most important traits that a leader must possess
How the qualities that define leadership have evolved over time
Leadership in democracies vs dictatorships
Military vs political leadership
How business hierarchy structure affects leadership
If you take these suggestions to heart, you should be ready to write your paper! Of course, if you are still struggling with your leadership essay, we are ready to help! Whether you are overwhelmed with your coursework or just lack the confidence in your writing skills, we have experts who can write your paper for you!
Our custom writing services are perfect for when you need a custom paper that meets all of your requirements. Everything we produce is affordable without compromising on quality!
Follow Our Essay Example: To What Extent, If at All, Does Leadership Style Affect Employee Work Performance?
Introduction
Leadership is basically the process of setting a fine guide for others to follow. Considerably though, even though many want to lead, only a few are really able to affect others in a way that they are expected to. Yes, due to this particular fact, leadership has been recognized to be more of a skill than that of a talent. Undeniably, this issue is one of the most important considerations that is being given particular focus in the field of business management. The ways by which an appointed person to lead deals with the responsibilities that he has been assigned to is a vital part of business success.
It could not be denied then that leadership is indeed an important contributor to business progress. The question though is how does leadership really affect business organisations today? How are leaders practically affecting the level of performance that their people are providing the organization with? Is there any particular process of leadership that could be characterized as the best one? The questions are to be given particular attention to in the following discussion that aims to present a more clarified presentation of what leadership really is and what is its impact in business organisations worldwide. The first section shall give a deeper understanding as to what leadership is really all about and present a more reflective understanding on its role in sending of a business group into the path of progress and business success.
About Leadership
There are many individuals who would likely want to be in the position of being a leader, however, only a few are really able to mandate the different procedures of being a true and effective leader. Yes, leadership is not sourced out from birth. It is a skill that is further enhanced through study and actual application of what one has learned about the proper application of leadership in actual life occurrences. These occurrences though could of course be better affected by the different attitudes that the individual has as a leader and as a person.
Yes, when it comes to leadership, more than the application of proper theories in certain situations is involved. Practically, the deal with effective leadership involves the different elements of applying the skills of leading along with the empathetic way of dealing with other people. There are certain realizations that are leader must be able to realize before he could actually say that he was able to lead the group in a successful manner that caused them to become successful in the industry that they are most interested in.
Why the need to be empathetic? Empathy is basically the capability of one to "feel with the others". The identifiable effect that this virtue has on leadership is obviously vital as it allows the leader a chance to become a part of the team and not just the leader of it. He, as the leader, becomes practically understanding and directly effective when it comes to feeling for the need of the ones that he is leading. The effective approach that one embraces to be able to see through the needs of the others in the team makes it easier for him to pinpoint on the matters that he practically need to attend to thus allowing him to motivate the people in a very natural way. Being empathetic though do not mean that a leader could not be angry anymore because of the fact that he is able to feel both the victories, the needs and the transgressions of others. Insistently, it has mentioned earlier that empathy comes along with reasonable judgment of situations. An empathetic person would be able to identify the problems in a manner that these issues affects others, instead of just understanding the cases of everyone in the group with regards this problem, he then tries to give a solution that would best provide the values that the ones he is leading expects to live with. Yes, it is through this way that leadership becomes the most vital key towards successful human resource management approach.
How Leading Affects the Process of Human Resource Management
Human resources are the primary partakers in the process of bringing about success to business organisations at present. It could be noted that this fact has been derived from the idea that the people has the power to make chances and that their efforts are the ones that are most valued by administrators of any particular organization today. This is especially concerning for-profit groups that are very much dependent on the process by which their people perform their duties. Organisations such as manufacturers, retailers and others that involve human power are directly affected by the performance of each individual in a team.
This is the reason why the need to lead these individuals is essential. Proceeding with the approaches that are able to provide them the motivation that they need to be able to come up with the most effective considerations on the ways by which they handle their responsibilities as workers and as well mandated individuals who are able to realize satisfaction through good work is an essential part of being a good leader in this scenario. All around the globe though, it could be noted that there are certain matters to leadership that are considered general and practically applicable to any kind of organization. These leadership approaches are based on the different studies and leadership experiences of others that provide proper understanding of the need to become an effective leader for a certain group of employees or performers for business success.
One of the most effective theories applied is that of the path goal theory of Robert House. Path goal theory is a leadership process that involves the serious concern of a leader towards the needs and demands of the people he leads that bring about the satisfaction that every individual needs to realize as part of their jobs. Besides that, a properly mannered leader is also expected to become an effective complement to the shortcomings of others in the team. Being the lead, he is expected to make particular adjustments on himself to be able to make good effect on how others conduct themselves. This however should not be mistaken as a process of making it easier for the team to make the job while the leader shoulders every single responsibility there is. The leader need not be a martyr for all the sake of the others. He simply needs to be reasonable, likewise flexible in handling the difficult situations that the team might be facing incase certain emergencies or problems occur as they tend to complete their tasks in their appointed responsibilities.
This is how the leaders are able to affect the process of performance of their other team members. Knowing that they are soulfully supported by their leader, these individuals would be able to find the most effective ways there are to complete their tasks in a manner that best fits their responsibilities as well as that of the expectations that their organizational administrators have on them. Through the presentation of the leader with regards his concern for the individual success of each team member, the individuals become more motivated to push forward for better performance provision as part of the team and as part of the organization.
Through this effective use of proper leadership, HR Managers are able to create proper indicative rules and policies that could help the team members realize their worth to the organization. Through the application of reward process and promotional approaches that are effective in pushing the members of the team forwards for improved performance, these effective leaders are able to compensate every part of the group with the best incentives that they deserve in place of the effort that they put forth for the entire organization.
Conclusion
Yes, leadership has been explained in this discussion as a proper element that empowers every organization. It is through this particular truth that an individual is able to become one of the best motivators in a certain group of workers or employees. It is the realization of one towards the role that he is taking as the guide of the people in a group that pushes him forward to further his skills and attitudes towards developing the proper process of leadership. With the many theories of improved leadership given for individual leaders to learn from, it should be easy or at least apprehensible to handle the responsibilities that every appointed leading individual should take into serious consideration.
After all the deliberation of all the issues and the situations that leaders need to face with in the process of assisting others to become the best that they could be through performing well, this document intends to point out on one particular character that a true leader must have, and that is empathy. As noted in the whole discussion presented herein, empathy gets the chance of others responding to a leader's call. One's capability to show the manifestation of this virtue in his leading approaches gives him and the ones he is leading the proper understanding of the need to support each other along the way. A leader who is able to listen to the needs of his people is the one who is able to reach out to their hearts, not through the commanding power that he has but through the emotional motivation that he pushes to apply for his people to feel not burdensome but satisfied with their jobs.