Opinion writing assignments are those that are frequently given to students of different academic levels. When assigned this essay type for the very first time, many students become worries concerning the structure and way of organization but in essence, the principles of writing are similar to the other essay types. When it comes to the structure of opinion writing, as a rule, you need to provide a five-paragraph essay organized just like the other essay type. The only difference related to the content is that you do not have to focus on the analysis of some information taken from the outside sources but mainly present your own opinions and arguments and back them up with ample evidence, such as examples and illustrations. When writing an opinion essay, you need to choose the strongest arguments so that you opinion is clear and that you can demonstrate that your viewpoint is worth consideration.
If you want to achieve success with opinion writing, be sure that you go through the following stages: pre-writing, writing, as well as editing and proofreading.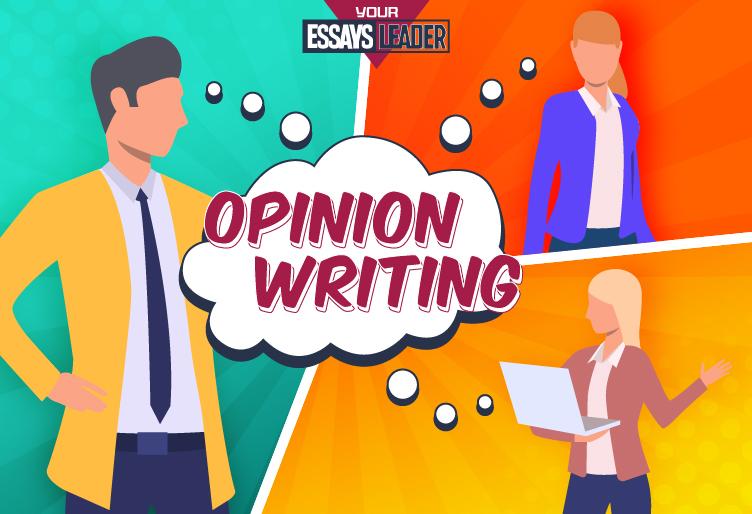 Pre-Writing Stage
Before you start with the actual writing process, you have to gather sufficient information for your essay as well as decide on the topic. Many students would ask why they should gather information is it is opinion writing. Is that insufficient just to provide own opinion? Surely, not. You will definitely present your own opinion but the thing is that you should support it with evidence.
While searching for information, keep the following questions in mind:
What idea should I convey in the assignment/ what question should I answer?
Are there any things my target readers should learn about?
What main points should be brought to clarity?
Does my topic have contradictory points/ ideas?
Can I strengthen any of my arguments? If yes, how can I do that?
Once you have gathered different ideas for your topic discussion, think of how you can organize them in text properly. Specifically, decide which of the ideas it is better and more logical to include in the introduction, in the main body, and how it would be great to end the essay.
Writing Stage
As you are moving towards the opinion writing process, keep in mind that you need to organize your paper in three chapters: introduction, main body, and conclusion.
Introductory chapter. Present your subject and put forward your opinion in a clear and logical manner. If needed, provide relevant background information on the topic to make sure that your audience is well aware what you are writing about and what the problem lies in. Be sure to end the introduction with a strong and clear thesis statement conveying your opinion on the topic. Make sure that the introduction is written in an interesting way so that it grabs attention of your audience. So, keep in mind that there are a few techniques that you can use to start your paper. First, you can start addressing the reader directly. Second, you can start the paper with some controversial fact, quotation, statistics, or some excerpt from a literary work. Last but not least, you can pose a rhetorical question.
The main body. When developing body paragraphs, make sure that the ideas you convey are related to the main message mentioned in the thesis statement. Devote one idea to one paragraph. Start every body paragraph with a topic sentence, which supports one side of your opinion and make sure you provide examples and illustrations to make your opinion stronger and more believable. Start a new paragraph only in case when you want to introduce a new idea. When discussing your ideas and opinions, take into account not only the content and organizational principles but also writing mechanics, specifically the following aspects:
tenses (they should be predominantly the same throughout the paper);
transitions and linking words (especially between ideas and paragraphs);
proper vocabulary (relevant to the writing style and format);
proper punctuation;
proper citation when you refer to information taken from the outside sources.
Conclusion. Reiterate your thesis, specifically the opinion you have put forward but now make it stronger by presenting supporting facts.
On the whole, follow the principle of Oreo opinion writing: when you present your opinion, reasons why you think so, example that supports your opinion, and opinion restatement.
Editing and Proofreading Stage
After you have completed writing, you need to take a break before the next stage – editing and proofreading. Taking a break is necessary so that you could look at your essay with a fresh perspective. First, start the editing process, which means that you need to improve the content and organization of ideas. Then switch over to the proofreading stage, where you need to consider grammatical structures, punctuation, spelling, as well as vocabulary choice. Make sure that your ideas are presented logically and coherently – without any lists or bullet points.
Opinion Essay Prompts about Sports and School
When opinion essays are assigned to high school and college students, keep in mind that topic related to sports and school are some of the most popular. Check out the following ideas so that they might help you in the process of brainstorming:
Changes at school. If there were one thing that you could change at school, what would it be?
Special visitor. Imagine a situation that your school authorities are deciding on who of the famous people to invite to deliver a speech to students. Who would you recommend and why?
Rules of punctuation. Do you think that adhering to the rule of Oxford comma usage is a necessary thing?
Writing. Do you think that students still need to learn the principles of handwriting at school?
Types of schools. Do you agree that students would perform better if schools were single-gender? Why?
Sports competition. If there were no "winners" or "losers" to sports games, would students be interested in participation?
Homework. What convincing arguments can you provide to teachers so that they could reduce the amount of homework.
Slacking. How could you convince an average student of the importance of doing homework on one's own?
Opinion Essay Prompts about Relationships
Giving chances. After you mention that you have read an interesting book, your friend tells instantly that he/ she would not like it even though he/ she still has not heard any details about it. How would you convince your friend that the book is actually worth attention?
Cheating. Your friend tells you that he/ she plans to cheat during the test. Would you support him/ her in this action?
Friendship vs. romantic relationship. What relationship is more important to you?
Driving at school age. What age is appropriate to start driving? How appropriate is it for students to drive cars?
Ugly truth. Your friend asks your opinion on something but you are afraid that your honest feedback may offend him/ her. What would you do?
Hobbies and interests. You are going to plan how to spend free time with your friend but you have different ideas for it. How to reach a compromise?
Dating. Do you think that long-term relationships at school have negative effects on teenagers?
New friends and acquaintances. Imagine a situation that you want to spend time with a new friend of yours but your old friend gets jealous. What would you do?
Opinion Essay Prompts on Family Life, Leisure, and Pets
Self-reflection. You may be good at convincing others but what about persuading yourself to take up some positive habit?
Reading books vs. watching movies. Choose a movie based on the book. Make sure that you read the book prior to that. Compare and contrast them.
Spending time on the weekend. How do you prefer to spend time at the weekend? Do you like staying at home or going somewhere? Why?
Competitions. Imagine that your school has organized a competition for students and you want to participate. The prize is a family trip. Write a winning essay outlining why you should be chosen.
Animals in zoos. Do you consider it is right and ethical to keep animals in zoos? Why?
Pets at home. Should there be specific types of pets that could be kept in flats?
Pets in public places. Should some types of pets be restricted from going to public places? Why?
Inspiration. What is the most memorable story or a movie that you drew inspiration from?
Opinion Essay Prompts about Technology and the Society
Technological advancements. Choose one technological advancement that you are convinced the world would be better without. Explain your point.
Extraterrestrial things. Do you believe in some extraterrestrial worlds?
Social media. Do you think people could live now without social media?
Emoji. Have people lost skills of proper communication and expressing their opinions in words due to the use of emojis?
Eco-friendly materials. Should the government impose more taxes on people using plastic in excess?
Fundraising. Should children be given freedom to collect their own money by selling some handmade products or singing/ dancing on the street?
Inventions. What in your opinion is the best invention you can think of?
Minimalism. Do you agree that minimalist life adds up to happiness?