A personal history essay is simply a task to write about yourself. But it is not as easy as posting pics on Instagram. To create a killer personal history statement, one needs to know and keep in mind the aims the paper targets. Then, it is required to present only those facts from life that will impress the target audience and achieve the set goals.
This kind of document is written when one applies to college or university in general, or when one needs to get a scholarship. Often, students from abroad write about their life, experiences, strengths, and aims in order to participate in a foreign educational program. This task is especially difficult for international students because they have to submit essays in English. These documents should be free from grammar and spelling errors, as well as inappropriate expressions. At the same time, one should adhere to the traditional essay structure. It is no surprise that this work is challenging for many learners. Thus, it is a wise decision to hire a professional writer. For those bold enough to create a personal history essay on their own, our academic writing experts have provided the following helpful tips and ideas on what to include in the paper.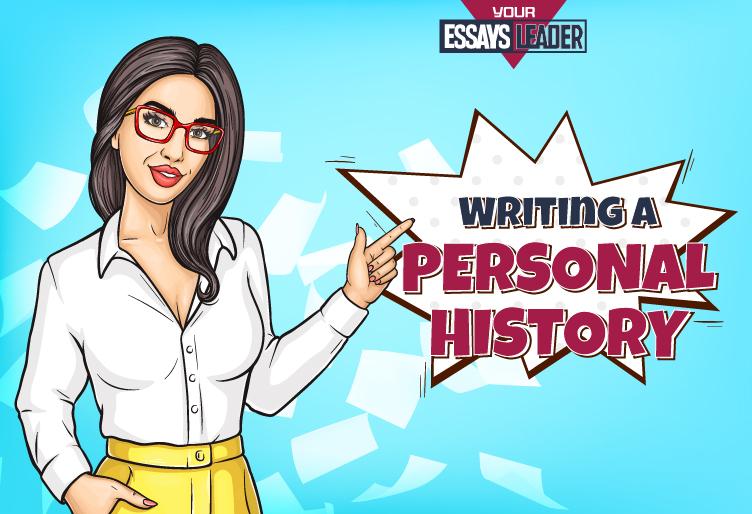 What Is a Personal History Statement?
A personal history statement is actually a short and concise summary of who you are. Specifically, you will want to include cultural, social, academic, and some personal experiences that helped you grow into the person you are now. Moreover, you should definitely draw a connection between your background and your academic performance as well as your willingness to pursue an academic degree. The main purpose of this personal history essay is to help the school or admission committee better understand how your background and current habits as well as your lifestyle and life philosophy can help you contribute to the college and add diversity to the studying process.
If you need to submit a personal history paper but you are not sure how to start or organize it, keep in mind that you can have a look at the samples provided on our company's website. All personal history statements were written by professional writers and they contain information on how one's experience of working or studying in a multicultural environment would help them promote diversity in the workplace or in the new place of education.
Some Features of Writing a Personal History Statement
you should briefly reflect on your background;
you need to highlight the link between the decisions you have made in life and your cultural, historical, family, personal or academic background;
you should keep in mind the aim of your paper: a personal history statement essay is written in addition to your application essay with an aim of helping the admission committee to know you better;
you need to demonstrate how you can promote diversity.
To make sure you are successful at delivering the message of your personal history across, make sure that you adhere to the proper structure of this type of writing. When you have a logical and concise structure, your readers will better connect with your story. If you have already looked through some of the paper samples found on our website, you might have probably noticed that a personal history statement has three main sections:
An attention-grabbing introduction. In the opening paragraph, you have to briefly introduce who you are and provide a statement of importance why you are actually writing this personal history of yours.
Relevant and logical main body. Be sure to add relevant information about yourself. Do not try to provide a positive impression and list only your strengths. Each person has weaknesses as well, and each person has encountered some failures in life. So, do not pretend as if you have none of these. Be honest about yourself and try to connect all your achievements or failures to specific life experience. Moreover, focus on your hobbies and interests and mention the academic goals you might want to persevere. Make sure you present yourself as a successful candidate for the admission program.
A strong and logical conclusion. Make sure you provide a powerful conclusion, where you sum up the whole of your discussion and reflections. Avoid clichéd phrases but rather highlight the most important elements.
If you want to succeed in your personal history statement writing, keep in mind that the paper should actually be your concise personal portrait. Focus on your strengths as well as hard and soft skills, which will help you achieve success in the future and move up the desired career ladder. Be sure to mention why you have decided to enroll in a specific program. What is even more important, make the text of your personal history essay readable and comprehensible. If you are lost in ideas what information to include in your writing or if you do not know what topic to choose, have a look at the following ideas provided by our company's expert writers:
Write about the etymology of your name. What does it mean? Does it bring you some specific personal qualities?
Where were you born? Do you still live in that place? How much do you like it?
Write about your mother and her influence on your life.
Write about your father and how he has influenced you as a person.
If you have siblings, write about them and how they have impacted you, specifically your behavior, your life choices, etc.
What do you remember about the surrounding where you grew?
What was the house like where you lived as a child?
What was your hobby when you were a child?
What was your favorite place where you liked to be as a child?
Did you have many friends as a child? Who were they? How did they influence you?
Did you use to travel much when you were a child? What is the role of traveling in your life now?
What was your typical day like when you were a teenager?
Describe your standard workday.
Did you enjoy

studying in

high school?
W

hat event was the most significant for you

in high school

?
Write about your grandmother and your grandfather and how they impacted you.
Write about your uncles and aunts and some other relatives if you happened to spend sufficient time with them.
What is the most striking school memory of yours?

What are the remarkable character traits

of your favorite teacher?
Your favorite sports activities throughout your life.
Can you drive? Who taught you?
What did you like to eat when you were a child?
Name the most memorable birthday celebration.
How do you usually celebrate your birthday now?
Name your favorite memory of a holiday. What holiday was that?
What is the most challenging aspect about growing up?
What is the best part in becoming an adult?
What did your parents do for a living when you were a child?
When did you leave home for the first time? What can you say about this experience of yours?
What was your first job?
What is your favorite story that you have heard from your family or close relatives?
Do you have an example of a story that has been passed through generations?
What were you most proud of when you were a child?
After you have put the last full stop in your personal history statement, set it aside, and relax. Take a break before editing it. As you were using a computer to craft this document, your eyes need rest. Otherwise, you may not notice even the mistakes that MS Word has detected. Your mind also needs some rest. After a significant break, you will be able to find better ways to communicate some of your ideas. Do not forget to save your document before you step away from your PC.
Then, come back and edit your work. Substitute all verbose expressions with short phrases. Double-check the paper for spelling, grammar, punctuation, word-choice and sentence structure. It should be flawless.
The way your document is written also resembles who you are. You cannot claim that you are attentive to detail in case the essay suffers from typos. Fortunately, solid writing companies provide such additional services as formatting, editing, and proofreading. Thus, keep in mind that you can always ask our writers for help.
Lastly, do not be afraid of a submission committee. You'll do great!
You may find it interesting:
How to Write Your First Fantasy Novel Cause and Effect Essay