Everyone has its creative side and it's especially important to uncover and express it in college. Have you already uncovered your creative side? If not, see the top pieces of advice below to start developing it today!
Work by a window

You get a view, you get the air, and you get natural sunshine. This is essential for your creativity. Have you ever wondered why writers want to hideout in picturesque places outside the cities to work on their novels? They need inspiration from the nature. Get a piece of your inspiration by sitting and working near a window.
Use cool school supplies

Some people think it's a funny piece of advice, when in reality it's a very clever one. Pick some beautiful and handy stationery and supplies that will give you more motivation. Go to Office Depot and OfficeMax to choose the coolest accessories.
Find a hobby you love

Because hobbies can spark one's creative side! If you don't think you're creative, but you're passionate about something, be sure that while doing it, your creative side will reveal by itself without any effort from you. Just try to turn-off your mind and focus on your hobby.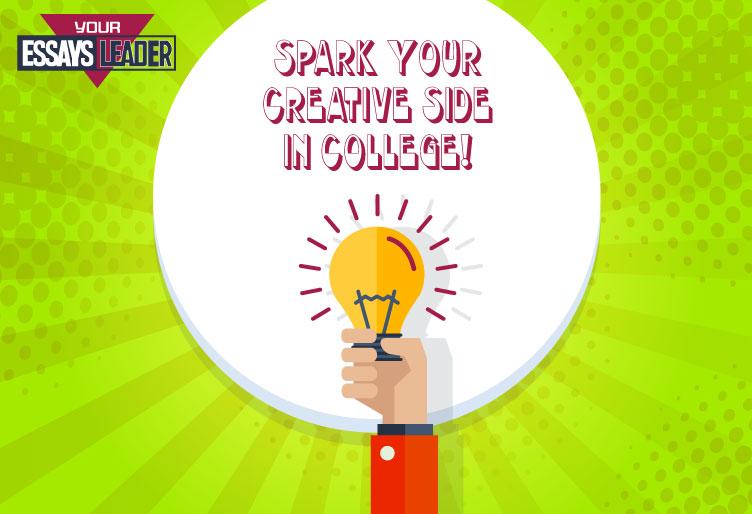 Keep a journal

This may be a diary or a gratitude journal. Just spend some time during the day to write something down. Aside from all academic work and essays that you're writing, let this journal be the place for your own thoughts and ideas.
Put learning new things first

There is a popular opinion that during the first years at college you should do some introspection, discover your passions and understand yourself in order to see what you are really into. In fact, it's not 100% true. On one hand, you really have time to select your major, master new skills, and study new information that will broaden your horizons greatly. But on the other hand, all theoretical and real knowledge of oneself comes when you confront the real world, step out of your comfort zone, and try to put other people before yourself. That's why new experiences from real life are very important. Not just in general, but for your creativity in particular. This is why you should try something new each month.
Don't ever doubt your creativity. Uncover it and make a huge difference!