Hey everyone! Have you ever thought about how similar or different may be academic assignments and Marvel heroes?
Essay & Captain America

They both are symbols of freedom and liberty. Captain America is one of the most recognizable heroes in the history of comics as well as the essay in the field of academic writings. Essays require primary hero skills such as the ability to express ideas clearly, logically and correctly. Captain America and essays are simple but not simplistic. As the most effective commander of the writings army, essay leads its soldiers to victory in the great fight of completing writing assignments and getting good grades. Having the types of formal and informal, it represents different armies which attack by different means, helping you to win the war – master the subject you study. Five
Five-Paragraph Essay & Ant-Man

Five paragraph essay? You surely can do that. It looks like an Ant-Man. It makes you college life easier while becoming small like an ant comparing to ordinary essays. This academic "Ant-Man" has its particular structure, so you need to follow detailed guide writing it. Five paragraph essay has one unique feature; it can become bigger or smaller according to your teacher demands. What is the secret of successful writing? First of all, get your reader involved in your essay, prove your point by adding the strongest argumentation, make your essay well-structured and be sure your paper will impress everyone with its power. Five paragraph essay will protect you from low grades just like Ant-Man protects people from villains.
Short essay & Hawkeye

Short essays always hit the target. They are sharp like Hawkeye's arrows. This type of essays requires skillful aiming to hit the topic you are mastering. Be brief like a shot, be precise like a hawk eye and you will get high grades for your writings. Make sure that topic is fully covered, and the main idea of your writing is clearly written. Take care of the structure; build the sentences in the right way. All in all, tips for this type of writing are the same as those for an ordinary essay, but the main idea is to be brief.
Dissertation & Hulk

When you face mastering a scientific degree in any sphere, it's time for you to face the great, mighty and big dissertation. Does this description fit someone like Hulk? You are right. Dissertation is like a Hulk among all types of writing. It smashes and crushes loads of information to get the one required. Only research of information requires great physical and mental health, many days and nights of careful work. The hardest thing is to gather everything into one perfect finished masterpiece. Your dissertation is a reflection of all your scientific achievements, your previous success, and faults.
Book report & Iceman

By all means, book report can be compared with one of the superheroes – Iceman. To deal with that type of writing assignments, you should perfectly master the skill of… talking to yourself. Like Iceman has learned to control his powers, this type of writing will force you to control your thoughts entirely and have a great fight while covering your topic and telling your feelings about the subject of writing.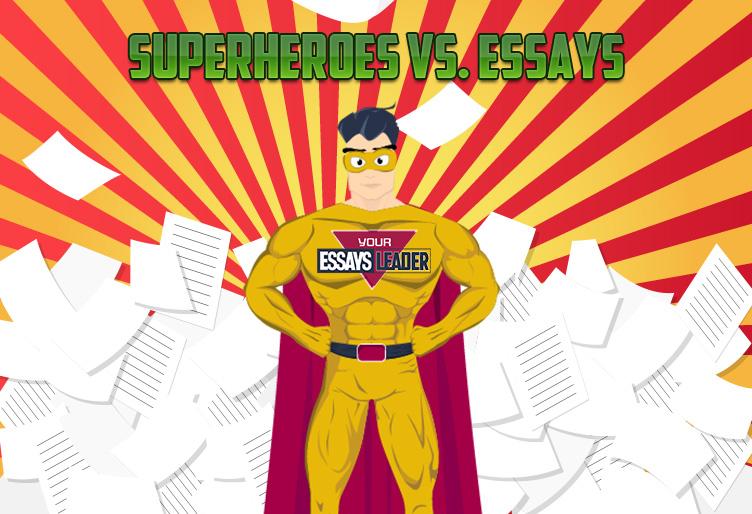 500 words essay & Invisible Woman

500 words essay seems to be almost invisible task. Like the Invisible Woman, it will stand among the great number of writing assignments unnoticeable. However, the role of such invisible tasks is significant. They help to improve the skill of exact thinking, being brief and critically thinking over the required topic. Defensive powers of 500 words essay are exceptional. It goes shoulder to shoulder with you during your studying. This type of essay supports your GPA with positive marks that give you good results in the end.
Research paper & Iron Man

Research paper is a kind of an essay which wears a special suit of your personal interpretation or argumentation. Like Tony Stark puts on the Iron Man suit, you dress your essay with your opinions, provide ground research on required topic and as a result, you get perfectly written research paper. The main aim of paper in a suit is to teach you to deal with different kinds of writing assignments connected with research. After finishing research paper, you will be able to win all the battles that require critical thinking.
Thesis statement & Spider-Man

All of your writings should have significant point, particular idea or a central message. Thesis statement looks like Spider-Man's thread which is taken from a great net of the covered topic. The prime aim of such writing is to define main ideas of the topic and show your readers the points that are worth drawing attention to. Parts of the written thesis have accorded with your topic and create the clear net of our paper structure and informational order of your thoughts.
Coursework & Thor

Coursework is always a daunting challenge. It hits you with a thunderbolt like Thor's hammer when you are unprepared. On the other hand, it can become armor against the army of professors not willing to give you a high grade for it. It usually includes practice (that can be even alchemy), writing part and research part. Sometimes you may prepare your paper within a team. Cooperation helps each member of your team to make his contribution to one joint project. Be prepared in the proper way to the great battle and always have your "hammer" in the working state, and you can be sure that the flight through finishing course will be pleasant, and the enemies will be prostrated.
3000 words essay & Wolverine

3000 words essay is one of the biggest of all writings. Completing these paper can be a rather complicated task for a person who had never faced it. Coping with it can be compared with Wolverine's coping with anger. Each page is like one of the cold steel knives from under your skin which exactly hit the aim of the subject required. Luckily such words count can be attained by anyone, so take your time and do your best. Give a full coverage of the topic and you'll get an A grade as a healing for your suffering.